The spell of cool temps and rainy days has finally broken. The evenings on the farm are still cool, but with the warmer days and more consistent sun, it feels like we are on the cusp of summer. The trees have fully leafed out, and the crops have responded to the heat by growing vigorously, almost as if they're making up for lost time. I've found it a joy to walk along the bursting rows of lettuce, spinach, kohlrabi, kale and our other early plantings, and see just how much they've come along since they went into the ground as tiny seedlings. Every year it amazes me to watch this process of life and transformation.
Last week we had our first fresh chicken harvest of the season! Over the weekend we had a steady stream of customers coming in to buy whole fresh chickens and chicken pieces from Friday afternoon to Monday morning, along with eggs, veggies and any other goods they needed from the farm store. You can download our 2019 Fresh Chicken Schedule here (frozen chicken is always available in the store). Of course, this was all made possible by our first volunteer chicken catching.
Before every fresh chicken weekend, a group of volunteers gathers to collect chickens and load them onto an animal trailer, making the harvest possible. This time, as dusk settled over Lincoln, we gathered at Richard Nichol's house for a potluck cookout. Though the sky was threatening to rain, the weather held off, and some rays of twilight sun broke through as we headed out into the field to collect chickens for the harvest. Our crew's ages ranged from six to over sixty, and everyone helped to gather chickens and load the trailer as night fell over the field. Having so many hands turned what could be a long and strenuous job into a quick and joyful one. I particularly enjoyed seeing some folks handle chickens for the first time - learning how to pick them up safely, and load them into their transportation crates, and enjoying the sense of accomplishment that comes with learning a new skill. This volunteer effort is part of what allows us to grow such tasty, healthy, pasture-raised birds. If you're interested in helping, our next chicken catching is this Wednesday, 6/12 at 7:15 p.m. You can RSVP here (info and directions will be emailed to you), or contact me at jon@codmanfarm.org for more info.
I have to give a shout-out to the Lincoln-Sudbury High School Seniors who came and volunteered with us on their school's annual Senior Class Day of Service. The day is a chance for graduating seniors to give back to their community, and we were joined by nineteen enthusiastic students. In only a couple of hours, they managed to transplant an entire field of winter squash and pumpkins, as well as move perennials from the old Pick-Your-Own Flower garden to the new site next to our greenhouse. For a farm like ours, with only a handful of employees, this was a huge help! I got to lead the transplanting crew, and was happy to spend the day with these wonderful young adults. For some of them, it was their first time planting something in the ground, and I hope that perhaps, wherever their lives take them, the experience watered a lifelong connection to all things green and growing.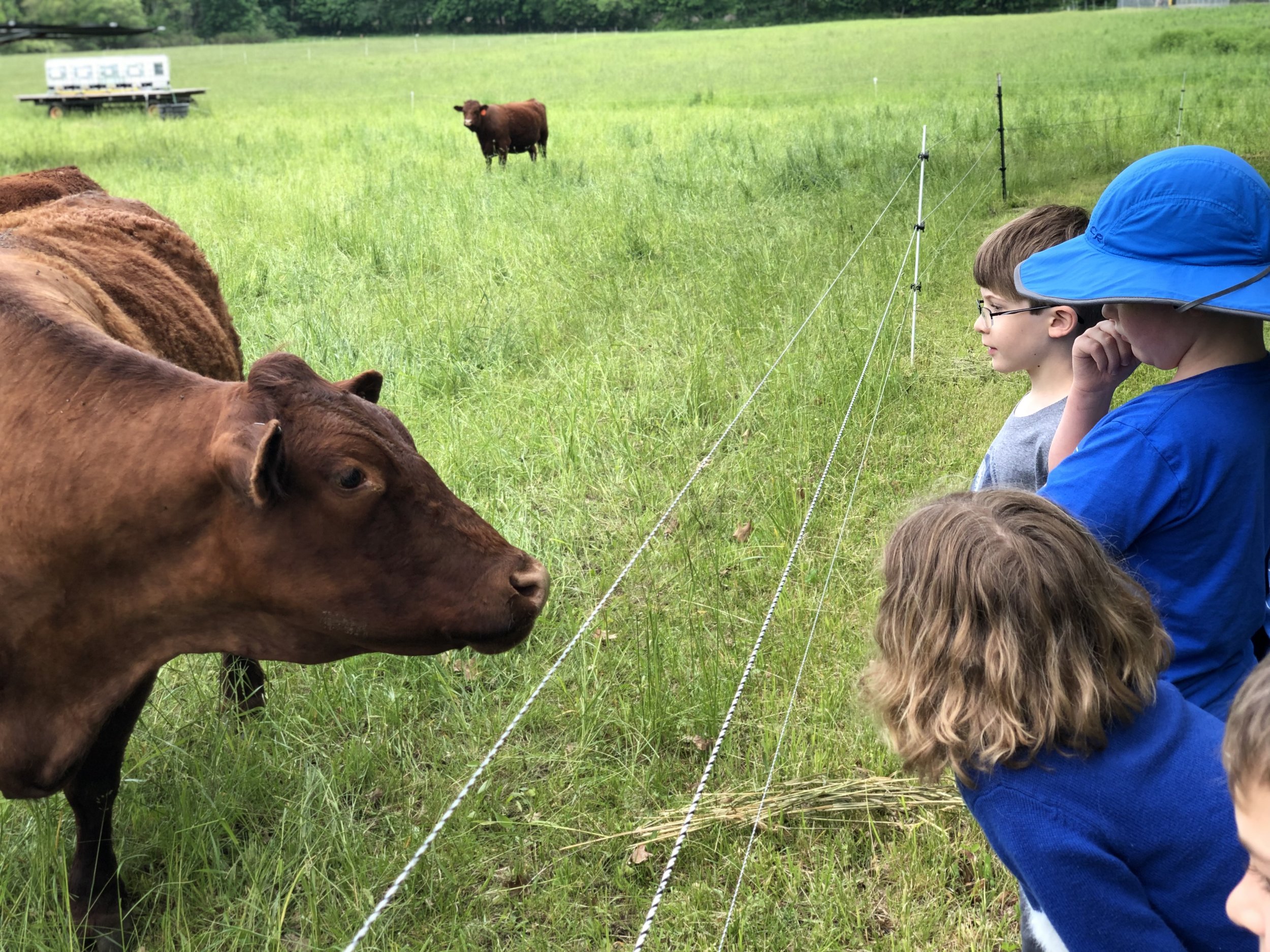 Farmer's Helper came to a close with a final visit to the cows, who are now out on Farm Meadow, across the train tracks. We had a great time over the six weeks exploring the nooks and crannies of working on the farm with these kids, and we're hoping some of them will come back and join us for the fall session!
On the animal front, we've had some new arrivals! We picked up a host of piglets from Maine just a few days ago, and they are spread out across our fields, including the corner of Codman North by Route 126, and over on historic land at Minuteman National Park, which we are newly tending with the help of Park volunteers. Our new dorper lambs have moved closer to the farm - they are now growing in the Police Pasture just across from the farm entrance. If you're coming to the farm, cross the street and check them out; just watch out for the electric fence!
Finally, we have two more events coming up this week! On Wednesday is the Artistry on the Green Farm and Vine dinner, featuring Codman's own food prepared by a top-notch chef, and paired with a selection of fine wines. Info and tickets are available at Artistry on the Green
Then, this weekend join us for the Codman Campout! Saturday evening will be a fun-filled night with a BBQ dinner featuring our own pasture-raised Codman meat, and family-friendly activities including a bonfire, an old-fashioned sing-a-long, and s'mores! Breakfast is served in the morning, but if camping isn't your thing, stop by just for the BBQ and an evening of fun. More information and tickets are available here.
As the seasons change once more, I look forward to the uniqueness of summer on the farm. Slower days, hotter temperatures, the lazy sounds of bees and bugs flying among the dandelions and raspberry blossoms, and the rhythms of weeding and harvesting. Though Lincoln may quiet down during the summer months, we'll still be here, tending to the land and the animals under our care. To me, it's a joy and a privilege to spend time outdoors among the plants and animals, surrounded by so much beauty. It is a connection to the life all around us, and reminds me of what it means to be alive. I hope that you can come and walk these fields and pastures, and share in that joy. As always, reach out if you have any questions, comments, ideas, or just want to say hello! We look forward to seeing you.
Until next time,
Jon
jon@codmanfarm.org